In order to get my thoughts straight in my head, I need to have a look at some pre-existing pieces of awesome. The research phase of a project is usually where I feel the most or least inspired, not in between. At present I keep cycling between the two. I find that writing about the process and the like in my blog helps a lot though. It lets me structure my thoughts in my head a lot more, and the more I write in my blog, the more work I do, as it gets me into the zone. It's a win-win really, but getting into the blogging can be a little bit tough, and knowing where to start with this project is pretty tricky, as it is
so
open and vague. We have to develop a piece of furniture that is based off CNC and CAD/CAM processes.
The project itself is fascinating, and looking at exemplars has me spinning with ideas as well as problems I might face. The way I'm dissecting this project in my head turns it into a variety of things. I can see myself designing another light, or going the whole shebang and designing a larger piece of furniture. Either way, what I really want to design is something that I can actually use, rather than it gathering dust in the corner of the room.
Image acquired from: http://www.heals.co.uk/
This chair is of course the Charles & Ray Eames LCW chair, which is possibly one of the most iconic and most popular bent ply chairs. The chair is simple, curvaceous, comfortable (I've sat on one!) and beautiful. I have my doubts about whether there were any CNC techniques involved, but it's possible the ply could have been CNC cut but would probably be CNC cut nowadays in order to save on time and guarantee precision. The chair has a certain wonderful honesty to it, not attempting to hide any of it's joins, displaying all of its design openly as well as maintaining a truth to materials.
Image acquired from: http://www.davidtrubridge.com/
David Trubridge's Luup table is so totally rad. When you want to order one, you get to choose from a wide variety of colours for
every single
leg, not just the whole set. I think that's super cool. David's table is really simple and minimal, and the design is also quirky and lightweight, giving a certain amount of fun to the design. The way it's put together is again really honest. The CNC processes here are amazing, because on David's website, when you want to buy one of the tables, it tells you how long it would take for such a table to be manufactured, which is
20 minutes
. Not long, eh? I didn't think so either. I'm not 100% sure if that includes the bending process for the metal legs as well, but that's not hugely important. I really like the fact that this table is delivered as a flatpack, and you get to put it together yourself. I'm a huge fan of IKEA (Can you tell?)!
Image acquired from: http://konstantin-grcic.com/
Konstantin Grcic's chairs are
really
cool. I'm still not sure exactly how they're made, as they present a unique challenge for my me to put together in my mind. I can see how some of the pieces would go together, but I'm not 100% sure if those ways were the chosen ones or even strong enough! Either way, the beautiful angularity of these pieces really endears them to me as quirky pieces of fun as well as serious pieces of gear. The sitting locations on the designs look like they'd be fairly comfortable, but some of the other parts on the designs look a bit harsh! I can imagine the separate components were probably CNC machined to ensure maximum accuracy. Still not sure how the pieces are joined though!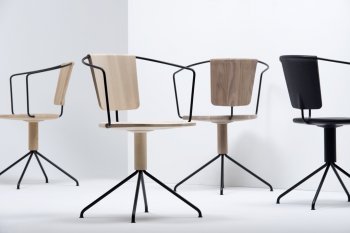 Image acquired from: http://www.bouroullec.com/
The Bouroullec Brothers designed these awesome chairs. I don't know if they spin or not, and I
really
want to find out. Initial look at them doesn't suggest they would, but you never know, there might be some sneaky ball bearings tucked away in that bottom wooden shaft. The rods would definitely have been CNC bent, as the accuracy on those would have been fairly difficult to get right otherwise. CNC rod bending is definitely a process that I think I'd like to use, as it doesn't seem to be too expensive or time-consuming as a CNC process, plus the yielded results can be stunning. There are a few other pieces of furniture that I really like that utilise a similar process.
Image acquired from: http://www.designboom.com/
These stools are
stunning
. When I first saw them on DesignBoom, I think I fell in love a little bit. The stool just has such a beautiful synergy between the materials, as well as between the colours. The black just works so nicely with the colour and innate texture of the timber.The key part of the design is of course the wire form that snakes between the legs of the stool, creating a variety of different leg heights, depending on how you rotate the stool. I think the notion of creating an asymmetrical design is a very clever one, and really explores the way we express a particular use through the forms we use.