I've finally come up with a concept for how I'm going to finish this project. I stumbled across a few random pieces of wood today, and found out they are actually from a NZ native tree, known as a swamp totara, which is a tree often dug up out of old, burnt swamps. The wood is reasonably prized, so finding a random little piece of this and then discovering what it was is a bit of a joy.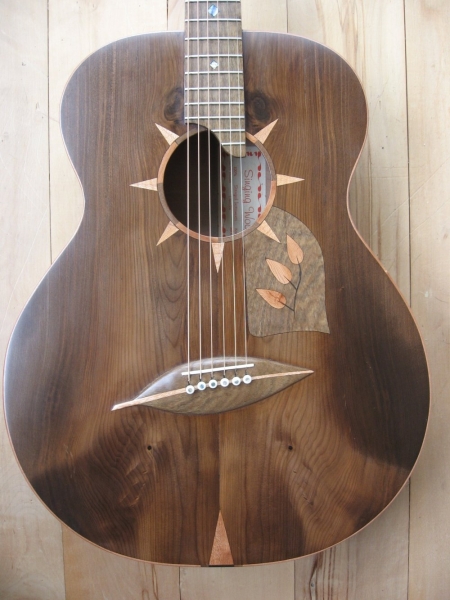 Image acquired from www.singingwood.co.nz
The image above is a swamp totara guitar, made buy an NZ artisan by the name of Ian Davie. The wood is a rather nice dark colour, however, for it to work with my project, I want to stain it much darker, to an almost black colour. I'm going to do this with watercolours, as this will still allow the grain to shine through.
A suggestion by one of our epic workshop guys was to also oil the wood afterwards, as this would give it a sheen, as well as allowing the wood grain to show through even more.
I formed the top section out of a single solid cube of wood (like the one the shape is sitting on), slow bit by slow bit, mostly on the belt sander, before finally finishing it by hand. The shape of this piece means that the top fits really well, and snugly covers the whole of the top side. This is a far superior piece to the metal piece that I had prior!
Now that my piece is finished, It's time for photos!
As follows are a few of the best: